2020.01.24 

2020.01.24 

BEENOS Enters Inbound Business through Acquisition of, "Travel Bar," a Leading Taiwan Travel Media Website for Travelers to Japan, Established BEENOS Travel Inc.
This is a translation of the original Japanese release. The Japanese text shall prevail in case of any variance between this version and the Japanese text.
Tokyo, Japan – 24 January 2020 – BEENOS Inc. (BEENOS) announced that it acquired one of Taiwan's largest travel media site "Travel Bar" (https://travel98.com/), operated by Travel98 Inc., and established BEENOS Travel Inc. as a wholly owned subsidiary to operate it. BEENOS Group will enter the inbound business through this new company and will operate the travel media.
The Group will leverage the networks it has cultivated in its existing Cross-Border E-Commerce Business and Global Marketing Business as well as fortify its domestic partnerships to achieve mutual growth. This new business will aim to further promote Japan's appeal, including parts that have not yet been fully conveyed by domestic businesses and local governments, to the world and to help accelerate the growth of the inbound market.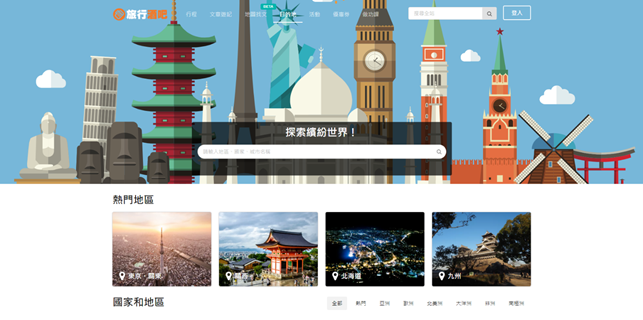 Travel Bar website image
Travel Bar launched in 2013 and is one of Taiwan's largest media websites for visiting Japan. The service is currently heavily used in Taiwan, Hong Kong, Macao etc. Users can collect information on Japanese tourist attractions, conduct schedule searches, and create travel plans on the site. The site has a monthly average of 5.5 million Page Views, with 73,000 posted blogs, 90,000 user-created travel plans, and 95% of users traveling according to their plans created on the site. This makes it possible to complete the planning of inbound tours on a single site, from the acquisition of information on inbound tours to the execution of travel plans created.
BEENOS Group's strengths lie in its global business development, which links goods, people, and information bilaterally between Japan and the world. To date, the Group has operated Cross-Border E-Commerce-related services, conducted global marketing operations, and planned and developed content products unique to Japan that anticipate demand from the inbound market. The Cross-Border EC service supports more than 2,000 E-Commerce sites, which is the largest in the industry. In addition to eliminating language, payment, and logistics barriers, the service provides customer support in multiple languages and conducts marketing activities in countries around the world. As a result, it has accumulated expertise in the aforementioned areas and has accrued the purchasing data of overseas users.
In addition, the BEENOS Group has invested in over 80 companies across more than 10 countries around the world. The focus for domestic investments in Japan is on startup companies engaged in inbound-related businesses.
The acquisition of Travel Bar will develop synergy between businesses and investments within the Group through the use of technology, human resources, and networks. Plans for Travel Bar include the proposal individual plans and the addition of reservation functions using AI within the current fiscal year (by September 2020) with the aim of becoming an integrated travel platform that covers everything from gathering information to making reservations.
The strategy for the foreseeable future is to increase the value of the website as well as strengthen its function as a point of contact for domestic travel service providers, which will lead to an increased number of high-quality content that motivates users to visit Japan and promote further growth in the advertising business. Current promotions will be conducted in existing areas as strategic priority areas. Expansion to new areas and multi-language support are among the mid to long-term strategies to further develop the business.
About BEENOS Travel
Company Name: BEENOS Travel Inc.
Representative: Taku Takeuchi, President and CEO
Location: 4-7-35 Kita-shinagawa, Shinagawa-ku, Tokyo, Japan
Founded: December 2019
Capital: 100 Million JPY
About Travel98
Company Name: Travel98 Inc.
Representative: Hsiao Chih Yuan, CEO
Location: No. 46, Section 2, Zhongshan N Rd, Zhongshan District, Taipei City, Taiwan
Founded: 2013