2019.11.06 

2019.11.06 

No More Lines! SaaS Modeled Mobile Order/Payment Service "narabee" Launched Today
Purchase Items at Event Venues and Restaurants without Waiting in Line
Enjoy Entertainment More Efficiently with the Use of Technology Solutions
This is a translation of the original Japanese release. The Japanese text shall prevail in case of any variance between this version and the Japanese text.
Tokyo, Japan – 6 November 2019 – BeeCruise Inc. (BeeCruise), a BEENOS Inc. subsidiary, has announced the launch of SaaS modeled mobile order/payment service, "narabee" (https://event.narabee.com/), today. Users will be able to order, select pick-up times and pay for concert goods, event paraphernalia, restaurant food items, etc. online and retrieve them without having to wait in lines.
Lines can be found all around in society including restaurants, sports venues, clothing stores and amusement parks. In Japan, it is common for a person to wait multiple hours at concert venues for famous singers and performing artists. Furthermore, many people could be left disappointed as the item they were hoping to purchase would sell out while they are in line.
narabee will allow customers to order, select a pick-up time and purchase items for an event starting from a few days prior to the day of. Customers can then pick up their products without having to wait in long lines. Furthermore, as event operating businesses implement narabee, they will be able to track and analyze sales data through narabee which will improve operational efficiency and labor management.
narabee will also soon launch an app for mobile devices to further improve the user experience. It also has plans to add foreign language support for inbound users.
narabee is a compound word made from the Japanese word "Narabanai (not lining up)" and the English "Bee." Customers will be able to use narabee to get to their destination directly without any detours like how a bee gets directly to its destination. Customers can purchase products stress-free so they can better enjoy entertainment with the use of technology without "lining up."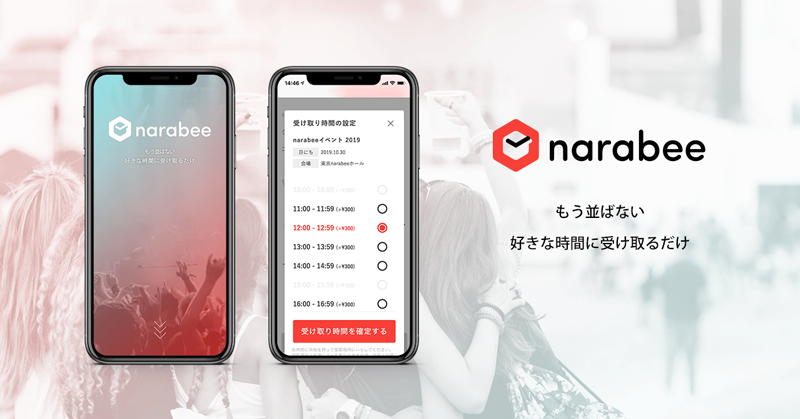 How to use narabee
Order, select a pick-up time and purchase your desired item(s) on narabee
On the day of the event, you will receive a text to the registered phone number with your pick-up time window
At the designated time, go to the narabee pick-up window, show your personalized QR code and retrieve your products

*There are a limited number of orders that can be processed per time slot. You cannot purchase items if your desired time slot is full.
Benefits of using narabee
No On-site Payment


Customers will purchase their products on narabee in advance so there will be no hassle for both the customer and the event staff of having to deal with payments.



No Worry of Products Going Out of Stock
All products purchased in advance will be ready for customers at pick-up.
*Products may go out of stock on narabee


Zero Stress! Enjoy the Event at its Fullest!


Long lines can cause stress and be physically draining. Customers will be able to better prepare for the upcoming event with the time they have saved without waiting in line.



Systemization of Management Tools


Event operating companies can manage inventory, track sales and analyze sales data using narabee to improve operation efficiency.
About BeeCruise
BeeCruise combines the Group's experience, network and cumulated data with cutting edge technology to improve the growth of the Group's current businesses and to create new opportunities.