2017.09.07 


2017.09.07 

BEENOS Invests in Inbound Tourist SIM Card Distribution and Tourist App Operating Company WAmazing Inc.
WAmazing Raises over 1 Billion JPY in Fundraising
This is a translation of the original Japanese release. The Japanese text shall prevail in case of any variance between this version and the Japanese text.
Tokyo, Japan – 7 September 2017 – BEENOS Inc. (BEENOS) announced that it has invested in WAmazing Inc. (WAmazing), a mobile app service for inbound foreign tourists to Japan. BEENOS joins ANRI #3 LLP, BEENEXT (BEENEXT2 PTE. LTD.), SBI Investment Co. Ltd. affiliated funds, Mizuho Capital Co., Ltd affiliated funds, Sony Innovation Fund which is a corporate venture capital of SONY Corporation, OPT Ventures, Inc. affiliated funds, Shizuoka Capital Company Limited affiliated funds, angel investors Naoki Aoyagi and Nobuhiro Aoyagi in the allocation of new shares. WAmazing has also received loans, etc. from Japan Finance Corporation, Mizuho Bank, Ltd. and Shizuoka Bank, Ltd. to raise a total of over 1 Billion JPY.
BEENOS now owns a 1~5% share in WAmazing.
1.About WAmazing
WAmazing's vision is to "Create an Amazing life by fully enjoying Japan." WAmazing began distributing free SIM cards at major Japanese airports for inbound foreign tourists to allow them to freely use data on their mobile devices while receiving tourist information and make reservations through the WAmazing App (free SIM card includes 500MB of data for a 15-day period). WAmazing released a new feature on 14 August 2017 that allows users to make reservations at approximately 10,000 hotels across Japan through the WAmazing App.

WAmazing currently targets tourists from the Taiwan/Hong Kong region for the free SIM cards and can pick up their cards at the arrival lobbies of Narita Airport Terminals 1-3 and Chubu Centrair International Airport.
WAmazing is making efforts to expand the number of target countries as well as airports to increase customer satisfaction and make the service more convenient for foreign tourists.

WAmazing will use this series of funding to expand the number of tourist locations that could be reserved through the app, increase the number of target countries, increase the number of machines to be installed in airports, increase marketing and promotions and to acquire more personnel to make these projects happen.
◆WAmazing Inc. Company Profile
(1)Company Name:WAmazing Inc.
(2)Representative:Fumiko Kato, CEO
(3)Location:5-13-1 Shimbashi, Minato-ku,
 Tokyo
(4)Founded:July 2016
(5)URL:https://info.wamazing.jp/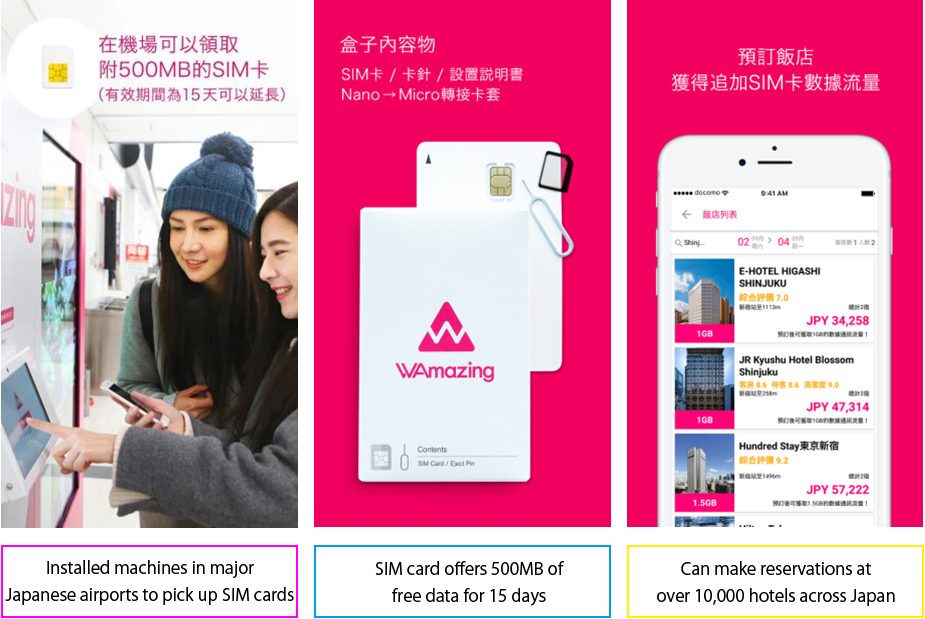 2.Background Information Regarding the Investment
BEENOS continues investigating opportunities to tap into the inbound travel market.

BEENOS has already invested in Metro Engines, a company that offers the leading collective management tool "Minpaku Dashboard" in terms of users, functions and user performance for the online homestay/guest house market, and Payke, a company that operates a multi-lingual product description app.

We invested in WAmazing with the anticipation that it will be a platform to better connect inbound tourists with the domestic tourism market, and has already shown results by providing a net infrastructure service for inbound tourists at an astronomical speed.

We will continue to support WAmazing as a shareholder and a strategic partner and hope to find a way to create synergy with tenso, inc., a BEENOS subsidiary, to expand each other's businesses.
【Contact Information Regarding this Release】
BEENOS Inc. Public Relations