2019.11.15 

2019.11.15 

Cross Border EC Supporter Buyee Partners with Japan's C2C marketplace app Mercari
Japanese products from anime and celebrity paraphernalia to trustworthy high-ticket brand items on Mercari now available in over 100 countries and regions!
Tokyo, Japan – 15 November 2019 – Buyee, a Cross Border E-Commerce support service and a service operated by a subsidiary of BEENOS, Inc., has announced its official partnership with Mercari, Inc. today. Customers from over 100 countries and regions will now be able to purchase items listed on Japan's popular C2C marketplace app, Mercari, as of 15 November. Buyee (https://buyee.jp/) will offer translation, foreign shipping and customer support services for foreign users of Mercari via Buyee's platform.
Mercari has a wide variety of products from subculture paraphernalia to reliable brand-named items on its platform. All Mercari product information and search functions are available in Japanese, English and Chinese (traditional and simplified) on Buyee. Furthermore, foreign users will be able to use mainstream payment services such as PayPal, Alipay and UnionPay. Buyee will make purchasing on Mercari simple and efficient for foreign users.
Buyee will purchase Mercari products for foreign users in proxy, have it sent to Buyee's domestic warehouse where it will be examined and re-packaged for international shipping.
About C2C marketplace app Mercari
Mercari is a C2C marketplace app that has 14.5 million monthly users. Mercari's mission is to "Create value in a global marketplace where anyone can buy & sell." The service aims to abolish the act of throwing away by creating a C2C marketplace app that is easy and safe for people to buy and sell items.
Japanese users of Mercari give the service high reviews due to its easy, secure and safe way they allow people to list and purchase items on their marketplace. Over 1.1 billion items have been listed through a vast variety of genres.
About Buyee
Buyee is a global E-Commerce service that allows customers living outside of Japan to purchase items from Japanese EC Sites. Buyee purchases the items in proxy and will ship the items overseas to the customer. It uses modern technology including machine learning to provide a service that is save, convenient and easy to understand. Buyee has over 1 million users (as of October 2019). Buyee receives a lot of recognition from its users for its variety of methods for payment and shipping, its ability to consolidate items from several EC sites into one package and its high-grade quality inspection and shipping protection services. Buyee aims to increase its customer satisfaction through this partnership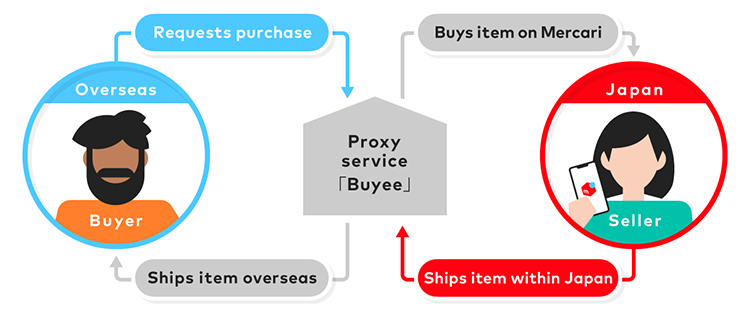 Business Service Diagram
About Mercari
Company Name: Mercari, Inc.
Representative: Shintaro Yamada, Chief Executive Officer
Location: Roppongi Hills Mori Tower, 6-10-1 Roppongi, Minato-ku, Tokyo, Japan
Business Overview: Planning, developing and operating of mobile C2C marketplace app "Mercari"
About BEENOS
BEENOS conducts business that connects things, people and information between Japan and the world bi-directionally. It operates a Cross Border EC service and plans and creates Japanese merchandise for inbound tourists to Japan. It also invests in over 80 companies in 11 countries worldwide.
The Cross Border EC services, including "tenso.com" and "Buyee," support the overseas purchases of items from over 2,000 Japanese EC sites by overcoming the barriers of international trade which are language, payment and distribution. We have also accumulated extensive experience in foreign exports and global customer support in the process.