Social
Resolving consumer issues and innovation
Goal
・Increasing corporate value by resolving consumer issues through innovation
・Continuing to create new businesses
Actions
The BEENOS Group engages in multiple efforts to foster innovation and is creating new businesses that would follow in the footsteps of Buyee to become a pillar of the Group. We believe that we need to have an innovative perspective as we find ways to fulfill the needs of consumers.
Internal New Business Contest "Business Challenge"
We conducted our 27th Business Challenge contest in 2021. Any employee, regardless of age, service time or department, is capable of pitching their business idea. The core business idea of what are currently Buyee and the Entertainment segment are products of this contest. We have also sold 5 of our businesses that were incepted from the Business Challenge contest. Some contests can gather over 30 business proposals and we intend to continue to hold such programs to nurture innovation within the organization.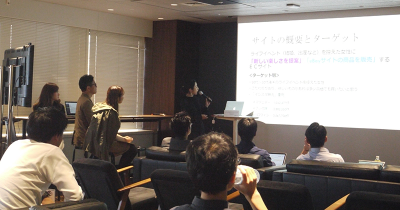 Investment activities in innovative companies
Though a portion of our investments in our portfolio are passive investments, we also invest in companies that we can innovate and synergize with. We have been syngergizing with Metro Engines Inc. (invested in December 2016) and KLKTN Limited (invested in July 2021). Metro Engines is one of Japan's leaders in dynamic pricing using AI and uses its technology to optimize hotel and rental car prices. KLKTN is an NFT platform to connect artists with its fanbase. We are hopeful that as we incorporate NFT technology to our services that our overall supply chain would greatly improve.
Development of the Asian region
Goal
・Using proceeds from investments to reinvest in Asian startups
・Creating ways to hire personnel from the Asian region
Actions
We have done business with Asian countries since the early 2000s and have assisted talented entrepreneurs throughout Asia through investments since 2012. We are unable to realize our vision without the growth and development of Asia so we will continue to focus our efforts in the region.
GoTo (formerly Tokopedia), our first investment
We have invested in over 50 foreign startups with our first being the lead investor in Tokopedia, an Indonesian EC platform, in 2012. In the decade following our investment they have grown exponentially and merged with GoJek in 2021 to form Indonesia's largest IT conglomerate behemoth. As of the merger, the GoTo Group is said to contribute to 2% of Indonesia's GDP (over JPY 1 trillion). During the early stages of Tokopedia's inception we have given them strategic advice and supported them in their fundraising efforts. The founders have reached their aspirations of becoming a service that is deeply rooted in the lives of the Indonesian people.
We take pride in the fact that we were able to be play a small role in a company that can positively impact its country's economy. We are excited to see the talents of the young generation create leading services in their respective countries. Tokopedia is just one of those stories and our other 50+ investments each have their individual tale to tell.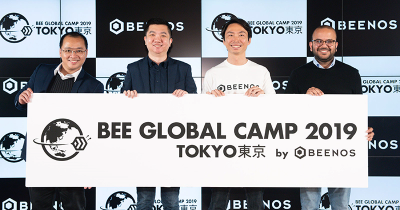 Opening of the Taiwan Branch
We have cumulatively hired 208 employees since we opened our branch in Taiwan that is currently manned by 79 employees (as of March 2022). A lot of the users of our services are based in Taiwan. Our Taiwan branch has significantly grown since we opened it in 2015 and we have moved offices several times within the Taipei area to secure more floor space to accommodate for the growth. We intend to continue adding more branches and employment opportunities throughout Asia.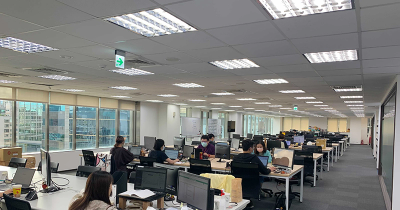 Creating an organization worth working for
Goal
Plans to set goals to create a gratifying workplace during FY2022
Actions
The BEENOS Group operates multiple businesses, but is dedicated to create a high performing organization with a variety of options, benefits and opportunities for all our personnel within the Group and maintain high morale.
Visualizing motivation through employee surveys
We conduct a monthly survey with all of our employees. Through this survey we are able to monitor the motivation, engagement, physical and mental health of our employees. Our response rate is over 90% with an average response rate of 97% in 2021. We use the feedback we receive from these surveys to help us engage with our employees and monitor their well-being.
The creation and refinement of our employee evaluation program
We have created an original evaluation program for our employees that directly correlates with the performance and motivation of our employees.
Abolishment of a universal starting salary for entry level positions
We have abolished the universal starting salary for entry level positions as of 2018 and offer new entry level employees a starting salary based on their skillset as we do for experienced professionals. We distance ourselves from the seniority mindset so that those who perform with a high output, regardless of age, are fairly compensated. As such we are able to provide ample opportunities for our young talent to perform at their highest level regardless of age or experience.
ESOP and Stock Options
Our employees have the opportunity to hold shares of the Company's stock. By so doing our employees become more inclined to contribute to the company's growth and financial results. We offer the highest level of incentives for our employees in our ESOP program among listed companies on the TSE which helps remove any hesitation they may have of joining the ESOP program. We also give out stock options to our employees based on their performance and future potential.
Actively conducting internal transfers
We actively transfer our employees within the Group to prevent burnout and being stuck in a routine as we provide them with new opportunities that would pique their interest. Employees can thus appreciate being in a new environment without having to find new employment.
Securing a diverse organization
Goal
We aim to do the following to become a better diversified organization:
・Hire a woman to serve on the board of directors by FY2023 (currently 0)
・Raise the ratio of women in management positions to 30% by FY2030 (currently 16%)
・Plans to set organizational and diversity-related goals during FY2022
Actions
We have always been an organization that embraces diversity. We have welcomed people of all ages, genders, physical capabilities, races and religions into the Group. This is not to say that we do not have our challenges. For example, we need to ensure that women are better represented in managerial positions including the board of directors. We also need to have the right measures and provisions in place for those who have physical and mental disabilities to be able to work comfortably. Finally, we need to ensure that we can support our foreign employees even if they are not able to speak Japanese.
Status of foreign employees
The BEENOS Group currently hires 69 people from 17 different countries, as of FY2021. These employees are hired throughout a variety of positions as full-time and part-time employees.
Installation of multiple measures to support women in the workforce
We specifically focus on the maternity leave and child support systems for women. Since 2021, the reinstatement rate of women returning from maternity leave over the past 3 years was 100%. We are as flexible as possible to provide a working environment that fits and supports their lifestyle. We also have a paternity leave program for men to tend to their families.

Among our various family support systems are:
1. Internal training sessions on women's health (for managers)
2. Monthly child benefit allowance (other benefits for life events are also available)
3. Reduction of work hours, work from home program
4. Babysitter support system
5. Support from the industrial physician
Other social-based actions
・"Brandear Charity Program" operated by Defactostandard, Ltd.
Defactostandard operates the "Brandear Charity Program" that allows users to donate some of the proceeds they make from the items they sell to Brandear. Among the various charities that Defactostandard are partnered with include a charity that donates used backpacks to children in Afghanistan and other charities that protect the environment.