Governance
Data protection and cybersecurity
Goal
We will take the following actions to fortify our cyber security and cyber governance.
・Organize a CSIRT by FY2023
・Implement an external IT audit committee by FY2023

Actions
Though we are taking all appropriate measures towards data protection and cyber security, the situation in these areas change on a regular basis. Therefore we are consistently laboring to stay ahead of the curve by creating an even stronger data protection and security structure by implementing the following measures.
Obtaining certifications
【ISMS range of application】
The BEENOS Group has implemented an ISMS for the following.
Business : Operation of EC sites to be utilized by foreign users and overseas package export
Organization: tenso, inc. (HQ and Kitakyushu Office) and BEENOS Inc. Risk Management Office (HQ)
Assets : Important information assets and personal information including the medium where they are stored as well as information facilities and equipment including services to maintain them
Location : Gotenyama Trust Tower 7F, 4-7-35 Kita-shinagawa, Shinagawa-ku, Tokyo, 140-0001 Japan
AruaruCity2gokan, 2-14-3 Asano Kokurakita-ku,Kitakyushu-shi, Fukuoka-ken 802-0001 Japan
Technology : All relative networks within the border as constituted by the router(s)

【PrivacyMark System Overview】
Business Name : Defactostandard, Ltd.
Location : Heiwajima Logistics Center 5F, Heiwajima 3-3-8, Ota-ku, Tokyo 143-0006 Japan
Certification number : 10590107(01)
Issuing agency : JIPDEC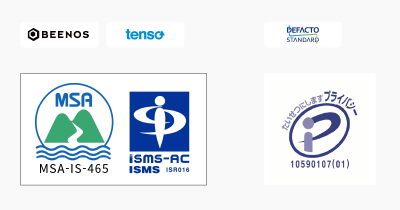 Training
・Testing employees by sending mock phishing emails
・Streaming training videos and conducting tests for employees
・Conducting training on protecting personal information for new employees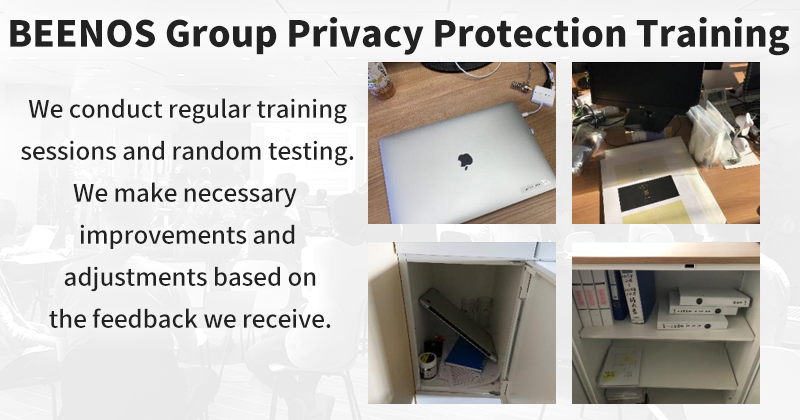 Legal Compliance (Global)
Policy
・Create an organization that will be able to adapt to a global business environment
Actions
We have an external legal consultant in addition to our internal legal team to fortify our legal structure. It is imperative that we maintain a strong legal structure as we continue to expand our business globally.
Global legal consultants
1. Advisory contract with Taiwanese law firm (covering the greater Chinese area)
2. Advisory contract with major Japanese law firm (covering Japan)
3. Advisory contract with foreign law firm with a branch in Japan (covering the US and European areas)
Updating the knowledge of the legal team
1. Gathering information through membership in the Association of Corporate Legal Departments
2. Regularly attending legal seminars (BEENOS legal team has served as an instructor)
Strengthening the legal literacy of employees
1. Organize regular study sessions
2. Create a YouTube channel to upload videos on legal topics that are relevant to the business activities of the BEENOS Group